Liquid Section - Filter Press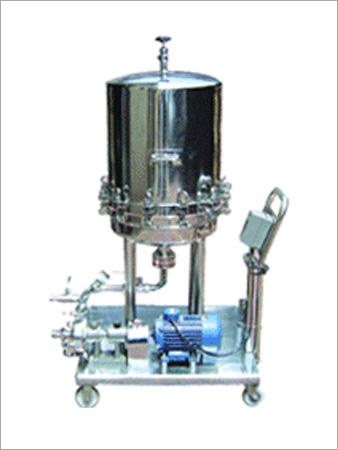 Liquid Section - Filter Press
Product Description
We have expanded our business and involved in the manufacturing and exporting an exclusive range of Liquid Section - Filter Press. These machines are widely used in pharmaceutical, chemical, pesticide and food processing industries. To manufacture the machines, our expert personnel team uses finest quality stainless steel, sourced from trusted vendors. Before offering at the pocket friendly prices, our quality inspectors check the Liquid Section - Filter Press on performance and efficiency parameters.
Features:
High operating rate

Hassle free operation

Easy installation

Liquid Section - Filter Press

The Bombay Engineering Works has been actively involved in the manufacturing of various types of filteration systems for more than eight years viz. sparkler, spiral, bag, leaf, neutsche, etc.

It now adds one more to its range by introducing a new generation of Zero Hold-up Horizontal Plate closed pressure filter, made first time in India for clarification and separation of solids from liquid.

Our normal practice, the filter is thoroughly tested in our factory & proved before releasing for marketing.

Salient Features

Central feeding of Unfiltered liquid ensures
Single pass clear filteration.
Full Batch recovery of the filterate.
No Scavenging of the filterate.
Complete Cake retains on the Plate.
Uniform distribution of cake on each plate.
Reduce the cost of treatement of Catalyst, Toxic Chemicals.
Less Exposure to the operating person.
No contamination of the internal surface of the Shell.

Equal thickness of the Cake on each plate ensures

Minimum amount of solvent required to wash the Active Material from the Cake.
Reduce the cost of expensive solvents.
Cake can be thoroughly dried either by compressed air or by inert Gas.
Uniform Filter - Aid Bed can be formed.

Closed System ensures

Filteration of Toxic, Hazardous, Explosive materials/ Unit can be sterilised.
Plate pack arrangement ensures

Any type of filtering media singularly or in combination, can be used to achieve required micro efficiency. Easy removal and cleaning of the Cartridge Assembly.

Additional provision of External Tightening Arrangement ensures

Tightening of the Cartridge, Assembly during Filteration.
Working Pressure :
Minimum 0.1 Kg / Cm2 & maximum 10 kg/cm2
Working
The Cartridge assembly consists of plates, perforated screens, spacers and fitter media. Interlocking spacers internally form single pipeline. The unfiltered liquid is centrally fed under pressure from bottom inlet. The liquids spreads out equally on each plate fitted with filter media. Solids remain on filter media and clear. filterate flows through precisely made holes on sides of plates and collects in the shell, which then comes out through the outlet. In this process, solids are evenly distributed on each plate. At the end of the cycle the cake can be dried by applying compressed air or inhert gas.
Material of Construction :

Stainless Steel : SS 304 / SS 316 / SS 316 L

Optional :

For hot filteration application S.S. Jacket can be provided around and at the bottom of the shell, for circulation of heat transfer media viz, hot water, Steam or thermic fluids.

Applications :

Pharmaceuticals, Perfumes, I.V. Fluids, Dyes & Chemicals, Activated Carbon, Pesticides, Cosmetics, Varnishes, Polymers, Resins & Paints, Sugar Syrup, Food, Plant Water Polishing, Fruit Juice, Soft drink, Beer & Liquors, Edible & Non-Edible Oils.

NOTES :

Filtration area and cake holding capacity have been computed for standard models 8", 14", 18" and 33".

The values of "Flow-Rates" mentioned in technical specifications have been estimated for the following operating parameters :

a) Fluid : Water
b) Insoluable : Carbon
c) Filter media : Non-woven polypropylen cloth of 418 grade.
d) Carbon loading : 5 kg/m2 filteration area.

The actual flow-rate will differ from the estimated value depending on
the operating variables.

Trade Information
Cheque

Eastern Europe, Middle East, Africa, Western Europe, Central America, South America, Asia, North America, Australia